Churidar is the Indian Ethic wear and Fashion for centuries. Churidar is a Hindi word. It is derived from a bangle name called 'Churi'. Since the churidar pants falls into folds in the legs above the ankles, it resembles like bangle churi and So the name churidars.
Actually churidar is the native dress of pakistan. During 1947 when India got freedom pakistan was separated from India. At that time some people form pakistan migrated to northern part of India and mostly got settled in Punjab. Hence the Churidars became native dress of Punjabis in India.
Churidar Kameez has been an extremely favourite choice of Indian females. Every woman, whether short, long , thin,small or plus size all of them love churidars. Well , I am saying all this because, I personally feel that a woman looks so very graceful in churidars. And so it has been a part of all occasions like parties, weddings or any others.
Typically churidar were made up of pure cotton materials only. Traditionlly the pajamas were loose in the upper part and semi tight near the knees. Later contemporary changes and made very impressive and provided excellent convenience for womans.
The modern varitant borrows heavily from its ancestor and comprises a few modern touches in the from of new fabrics , Cuts, Layouts and neck and cuff designs. It is categories from straight cut suits , Trousers stlyed churidars, Long Anarkali dresses, Patiala as well as casual churidars. There are also dozens of fabrics you can choose too. The most popular clothes used includes chiffon, cotton, georgette, crepe, silk, net and shimmer. These fabrics are also be customized by adding design patterns in the form of fancy prints , Emboridery , Lace etc.
The fashion industry has started giving "medium of artistic expressions" to churidars. There are huge varity of churidars available in market ranging low buget to higher ones. Some them are patiala , Anarkali…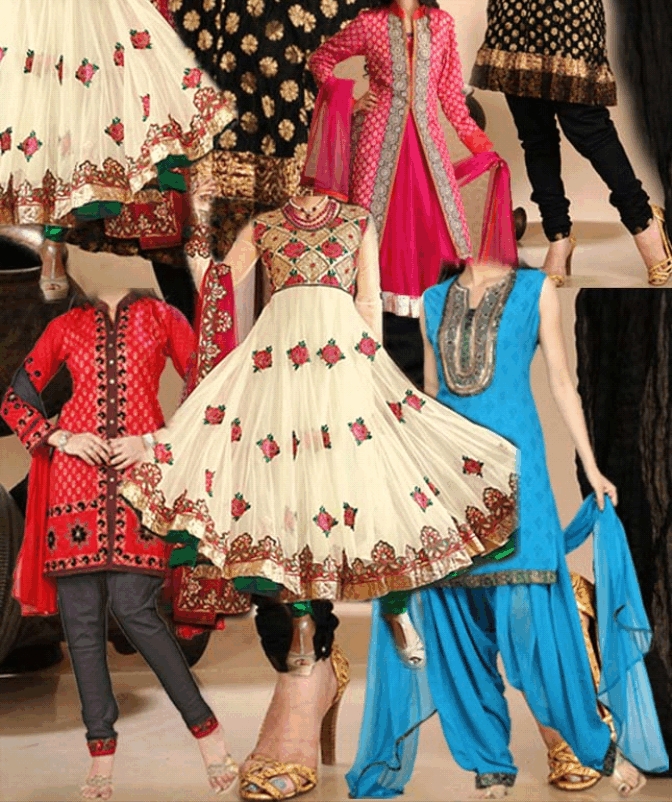 Anarkali churidar is also called as umberlla cut. It is a frock type churidar where the umberlla cut starts below the chest region. Many panels are attached together to from the bottom part. Anarkali kameez is accompanied with Capri pants & shawls. Patiala Salwar is the variation of pants or pajamas. In this pajamas are constructed with many number of pleats around the Hip region. So that the pleats falls very gracefully giving a different look. This is accompanied with a tight fitting kameez & shawls.The other variants are semi patiala salwar, patiala salwar, dhoti salwar.
On purchase of each type of churidars we should check the quality of materials and stitchings.