Fashion CAD's revolutionary approach to pattern making guarantees that one can create patterns for their own unique designs that will fit their shape or each of their individual customer's size and shape. Fashion CAD is an unwavering and mature product which we have now sold into over 50 different countries.
"The ability to customize my patterns to suit each client, and not just use a standard pattern for them, is crucial for my industry and has given me the competitive edge I need."
FEATURES OF FASHION CAD :
Fashion CAD's innovative approach to grading is to reorganize in computer terms and the way how grading is done.  Complex curves grading is achieved automatically by just entering the distance between the two end points. The Fashion CAD shapes the remaining nodes in between.
Apply of Digitizer :
Fashion Cad, a PC or Intel Mac with parallels, a digital camera and a printer/plotter is all what one needs. So considering it Fashion CAD is also an affordable one. The photograph of existing paper is taken and it can then be on-screen digitized. The expensive digitizing table is not an essential one.
Patterns are created accurately to exact measurements and adjacent . Pattern curves can be forced to be the same length guarantying patterns make up with no puckering. The pattern will end up with a quality and professional looking garment.
Fully featured CAD tools are flexible. Anyone can be able to create/modify patterns to their unique requirements. Excellent for all pattern making needs, lingerie, swim wear, sports. Also casual, uniforms, bridal, evening, tailored suits, baby clothes, even dolls, bags and furniture. The company provides 200 basic pattern blocks of different sizes, which can be used as a starting point. To create their own originals and create their own library. The pattern provided are not inflexible i.e. they are easily modified.
Fashion CADs are designed practically where it can be worked either in imperial (inches) or metric (cm or mm). It is comfortable with standard PC running any Windows software (up to and including Windows '8'). Also working on Intel Mac with 'parallels' and Windows 7.
Fashion CAD developers give training and support to the Users. Self pace tutorials developed over many years. It will enable one to become proficient in fashion CAD in the short possible time. If one need any assistance there is free e-mail support provided for 90 days when one purchase.
HOW FASHION PATTERN CAD WORKS?
For any type of garment designs standard set of patterns can be created using the wide-ranging CAD tools. The patterns are created by using the blocks available. And transform on-screen, or photograph of the pattern can be taken with a good digital camera. And on-screen digitizing pattern lines/curves over the top of the image pixel. Or else free form patterns can be created to required length.
New standard patterns can be saved in the library of patterns. There is a grading control points to enable control of pattern size. It can be inserted at the ends of a pattern lines/curves.
An existing grading file can be copied and then modified using XL or text editor. Insert measurement distances for the distance between each CP.Save each new pattern piece and add to the project file.
From the project file basic marker layout can be created using Fashion CAD. Here minimum wastage of fabric can be optimized. Print copy of layout or individual pattern piece is taken by the wide format plotter. And tile in page sized pieces to desktop printer.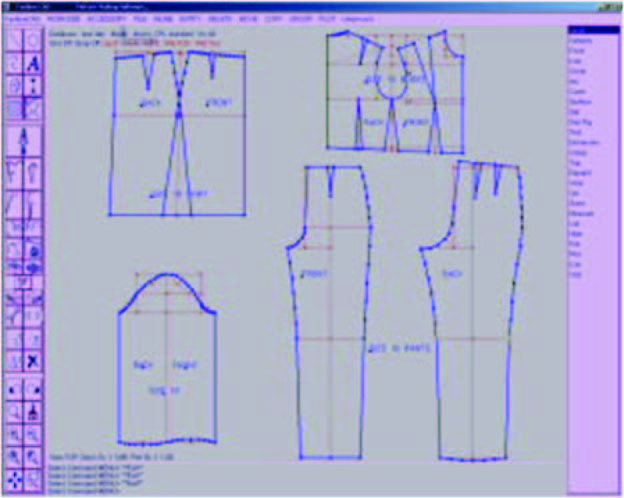 Modify a standard block using the CAD tools supplied with Fashion CAD to meet your unique design requirements…..
Detail your pattern with automatic (and/or manual) seams, text, grain information, motif's, notches, etc..
Then manipulate your pattern pieces in your layout – move, rotate, mirror, nudge, etc