Kantha Embroidery is a type of embroidery popular in west Bengal. The use of kantha is popular in mostly kantha saris. By women in Bengal it is being very popular in kantha saris. By women in Bengal it is being very popular in everywhere. Here explain different types of Kantha Embriodery.
The Sanskrit world kantha means rags, one legend links their origins to hard Buddha his disciples, who used to cover themselves with garments.
It is also used to make simple quilts. It's woven in Bengal kantha is very popular with tourist visiting Bengal and is a speciality of bolpur.
The traditional form of kantha embroidery done with soft dhotis and saris with a simple running stitch along the edges. Depends on the use of the finished product they were known as Lep kantha or sujni kantha.
The interesting thing in this embroidery is the entire cloth is covered with running stitches, and playing beautiful motifs, of flowers animals and birds. And geometrical shapes, as well as themes from everyday activities. The stitching on the cloth gives it a slight wrinkled wavy effect.
Contemporary kantha is applied to a wider range of garments such as saris, dupatta, shirts for men and women, bedding and other furnishing fabrics mostly using cotton and silk.
We can say kantha comprises of the simplest stitch in the language of embroidery the running stitch.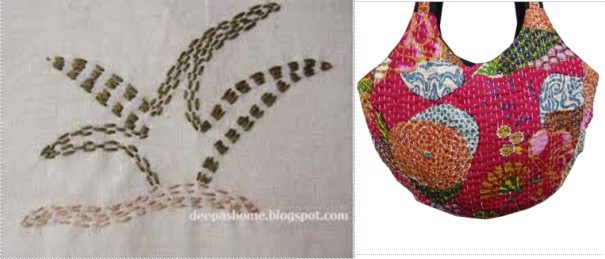 TYPES OF KANTHA
There is many traditional ways from we can do this running stitch in different ways.
Lep kantha are rectangular warps heavily padded to make warm coverlets, the entire pieces would be stitched in way rippled designs over which simple embroidery was executed.
Sujani Kantha is rectangular pieces of cloth used as blankets or spreads on ceremonial occasions.
Baiton kantha are square warps used for covering books and other valuables. They are elaborately patterned with borders of servel rows of colourful designs.
Oar kantha are rectangular pillow covers in simple design with decorative border sewn around the edges.
Archilata kantha it is small rectangular covers for mirrors or toilet accessories with wide colourful borders in wide colourful borders in assorted motifs.
Durjani kantha are small rectangles with a central louts design and embroidered borders. Three concerns of the rectangle are folded inward to from a wallet.