GOTA WORK FOR TEXTILES – As we know that Rajasthan is very well known of The metal embroidery of Rajasthan is known as Gota work. The embroiderers of Jaipur, Bikaner, Ajmer, Udaipur and Kota are world famous for their uniquely styled Gota work.
Gota is a band of gold or silver ribbon of that varies with width, woven in a satin weave. The gold embroidery of Jaipur, known as gota-work, is intricate. In Real Gota, Silver & Gold metals are used. But in routine, the base metal is copper, coated by Silver etc. Now the copper has been replaced by Polyester film which is metalized & coated as per requirements. This has resulted in better quality at lower cost. This Plastic Gota (as it is popularly known) has good resistance to moisture & does not tarnish as compared to metal-based Gota.
Mainly The work of gota doing on pure Georgette, Chiffon, Velvet & Silk whereas as in recent years synthetic fabrics are used for the production. The colors commonly used were Red, Orange, Pink, magenta, Maroon & Yellow which are nowadays available in all possible shades as per the customer demand.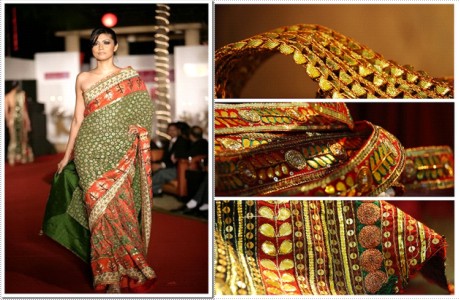 Production Process
The Base fabric is tied on four sides with thick cords and is attached to a wooden frame known as Khaat. For tracing design the tracing paper is placed on the Fabric. White paste made of safeda or chalk powder is spread over it. The Design will appear on the fabric. According to the outlines of the design Gotta is cut and folded into different shapes or it may be stitched in a simple line. To create different designs Gotta is cut and folded and is attached in various geometrical or in figured form with Hemming and Back stitch on the fabric.
Gota is woven on looms. It consists of cotton in warp and a metal in weft. Attractive designs consisting of flowers, leaves and decorative motifs could also be made on gota by pressing it under blocks. Each pattern and motif had its own distinguishing name. Small pieces of gota were cut and patched over the textile with the help of thread and needle to create designs in appliqué. In Jaipuri dialect, this is known as chatapati work. Gota has maintained its popularity even today among the women, the only difference being that the hand-operated loom on which it was formerly made is now power-driven.
Gota is available in different width. With it different types of items are made like Champa, Beejia, Phool, Patti, Gohkroo etc. Now- a-days different shapes in different sizes are cut out of the Gota-Strip, manually or by dies. And using these and other materials like Dori, Sitara, Kundan etc.
Artistic works are created by Rajasthani artisans. There is no better choice than 'Gota Work' when rich & heavy look is desired in light weight. It is also low cost & durabel.
In Gota work however contrasting colors like pink and green or pink and red are mostly in the background with patch work to highlight the work.
Some sections of the pattern are filled with colored satin, thus resulting in a rich design that resembles the enameled jewellery of the region. Men and women of all communities wear garments of Gota work or Lappe ka kaam, as it is auspicious and indispensable during ceremonial occasions. The work is mainly done on the costumes for women. Married women wear the Gota ornamente attire in religious, social and festive occasion's men, and children also dress sometimes in their finest clothes that are often ornamented with Gota work. Gota lacing is generally done on odhni and turban edges.  Printed or embroidered ghaghras are also trimmed with gota. Traditional articles like Kurti, kaanchli, Sari, Lehanga, Poshaak, Dress for idols are adorned with Gota work. Contemporary dress included Kurtis, Salwar suits and saris, decorative panels and cushion covers with using gota work  are also in fashion.