COLOR COMBINATIONS – In every designing, whether it is fashion, textile or interior designing or any other designing, colors plays an vital role everywhere. Color  has the ability to alter the perception of space in many ways – by enhancing a beautiful detail, by subduing an undesirable feature, by imposing scale or by simply compensating for the lack of architectural character.
Overall color enhances the beauty of any kind of design product or element. Some color combination creates a mood or ambience, complement the different design element within the limited space.
Creating a good color scheme is essential for a good design and for creating  a good color scheme, we should know about proper color combinations. There are some of the colour combinations which are everegreen, which add to the beauty of any design product.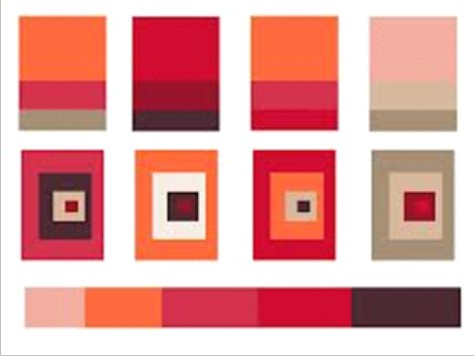 For intence, Vibrant Chinese red in high gloss with a slightly browner red  create a shadow line and add a little contrast. The combination is bold and intense, but oddly enough it's a very relaxing. Changing colors of the ocean on a sunny day, or the sea glass with a splash of cobalt and a dash of dusty pink  is also a marvellous combination.
A classic Gustavian palette, with a wispy blue  and a cloudy blue , the colors have a grayish cast, which gives them a built-in patina. It's already faded. There's something sort of calm and happy about that.
"Aubergine conveys a sense of deep space, mix it with an equally provocative trim color like this citrony gray-green.Similarly,  pale green  and the nutty brown trim has an undertone of green. That reflection back and forth adds to the sense of peace.  They let you drift into imaginary worlds even with your eyes wide open. A  powdery blue and a gray is a very Soft, It's a soothing combination.
Classic color combinations look stylish on everyone, no matter the season. Neutral colors worn together create looks that are timeless and flattering, while providing plenty of flexibility.  Neutral colors include black, navy, white, brown, grey and khaki.
So color combination doesn't only mean to fill any fabric, wardrobe or room with a color, it also means to add a meaning to that thing or place. Color combinations plays a vital role in the addition design balance and harmony. But with this proper colour matching is also important with appropriate color shades and tones otherwise change in a shade of a color also prevails different meaning to the design.