Horizontal panel Anarkali is also having 2 parts, which bodice and tiered skirt.  This type of Anarkali made with Horizontal panels of associated blend colors & patterns. Usually 3 to 5 tires used to make this Horizontal panel Anarkali. To enhance it looks should attach lace at the tire joints. This Anarkali suit stitched with thin fabrics like chiffon, Georgette, net, tissue & cotton with suitable lining.
Construction: Front & Back
If u wants to make high waist line Anarkali add this following construction points to the basic Kameez draft. Click HERE to know the Kameez draft details.  You can make this as a floor length Anarkali. For that you have to change the measurement of (0-1) as Shoulder to floor length.
(0-10')              = Shoulder to under bust length
(10'-11') = ½ high waist
Then Join 11'-4' side seam line.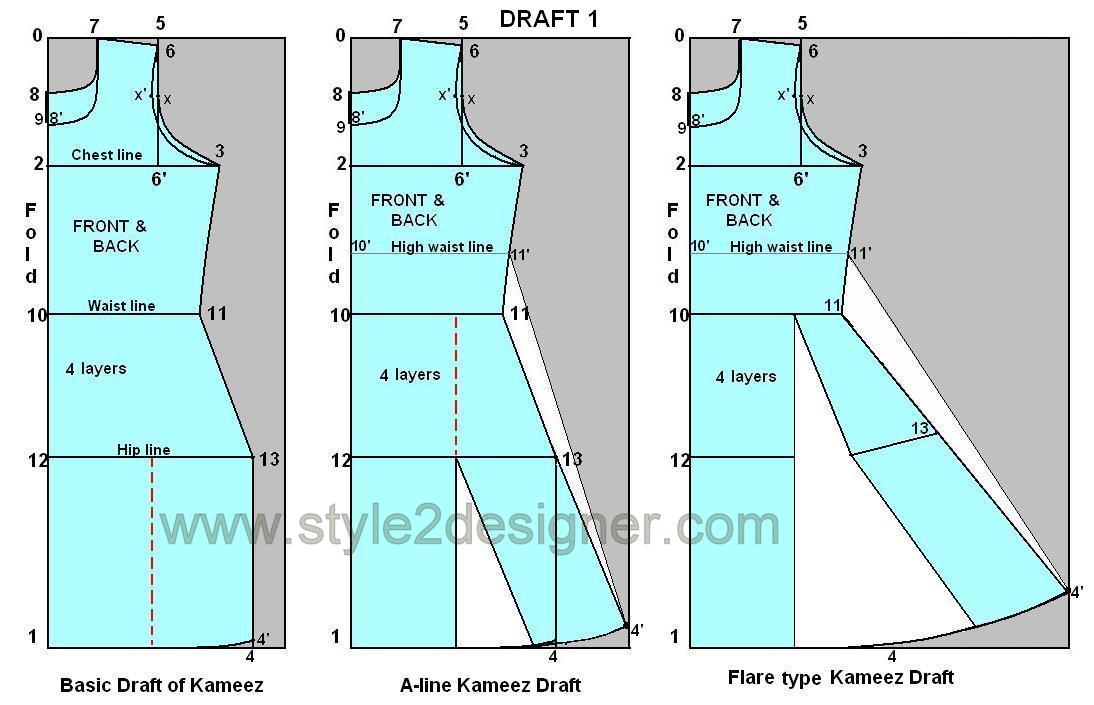 Instruction for A-line draft & Flare type draft:
Mark the centre points of (1-4) & (12-13) and draw line to join that points.
Cut the line and slash as like as the draft 1. Now you have A-line draft.
Draw a straight upward line form the mid point of (12-13) to meet the line (10-11) in A-line draft.
Cut the line and slash to have a flare draft. Refer draft 1 image.
Cutting line:
Front: 9-7-6-x'-3-11-13-4'-1                       (9-1) on fold
Back: 8-7-6-x-3-11-13-4'-1             (8-1) on fold
Cut 8-8' on fold for back neck slit opening
Note:
Neck slit opening need only at the circumference of head is lesser than neck circumference.

If you want to make a high waist Anarkali use point 11' instead of 11 while drafting & cutting.
Take A line or flare draft and cut along the high waist or waist line of both Front & Back pieces to separate Bodice and skirt part.
Bodice Dart: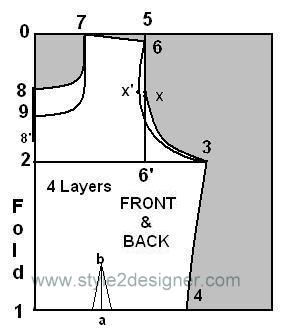 Point a is 1/3rd distance of (1-4) from 1.
Point b is 3" straight upward line from a for waist length bodice.
If it is high waist length bodice Point b is 1.5" straight upward line from a.
Mark 1.5cms both sides from point a. join from that mark to b.
These darts should be in both sides of front & back.
Skirt Part:
Tier Length calculation:
Your skirt part length is 42" then divide 5 equal parts. 42/5 = 8.4".
So your each tier length is 8.4".
If you want to add 2" border you have to less this 2" from skirt length then divide. 42"-2"=40". 40/5=8" so your each tier length is 8".
Take the skirt part and divide 3 to 5 equal parts of its length or you can cut 3 to 5 separate tiers for skirt part with these instructions in image (here I give 5 equal tier measurements).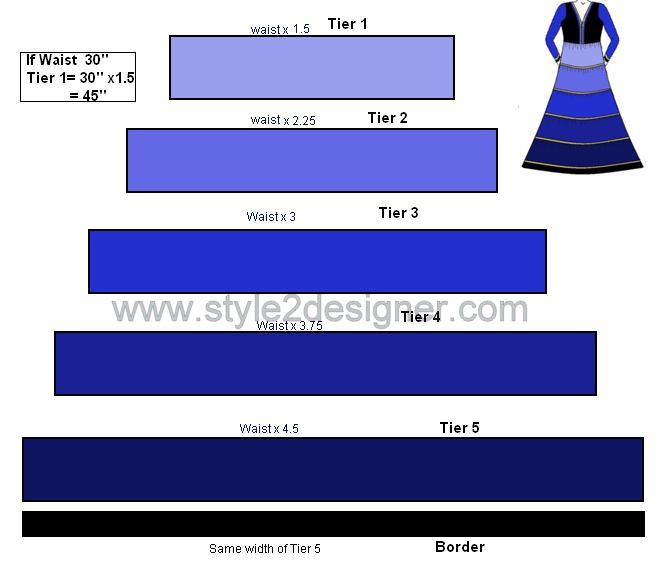 Tier width calculation:
Tier 1= waist x 1.5
 2nd = waist x 2.25
 3rd = waist x 3
4th = waist x 3.75
5th = waist x 4.5
Sewing instruction:
Step 1: Attach tiers one by one with regular interval pleats. Then sew along the side seam. Now the Tiered Skirt part is ready.
Step 2: First you have to finish dart portions in bodice then neckline, shoulder and sleeve sewing instructions are same as Kameez. Refer Kameez tutorial
Step 3: Then you have to join bodice and skirt parts together on waistline or high waistline.
Decorate with lace at each tier seams, neckline and sleeves. You can
Now you get a stylish horizontal or tiered Anarkali.