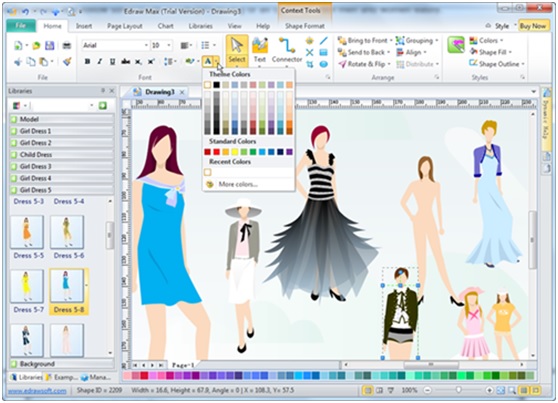 Edraw Max Makes Fashion Design Easier
Edraw Max is new fashion design software. An extensive hodgepodge of model is provided in the Edraw Max. And also it offers clothes in variety of colors and styles too to design fashion dress. It compiles with full of amazing fashion ideas.   

Its features have simple but highly flexible tools. Likewise it has ten unique models with a variety of skin tones and hair colors, hundreds of cute clothing items to mix and match. With Edraw Max, one can become master of Fashion Design easily.
To design them properly and make a drawing professional, Edraw Max supports a lot. Probably there are only some steps to be follow to design clothing of all types for men and women readily. Edraw Max is a perfect vector-base fashion design software with abundant of templates. Templates available are all vectors and can be modify easily.
Fashion CAD:
Fashion CAD's revolutionary approach to pattern making guarantees that patterns can be created for own unique designs that will fit the person's shape or each of his/her individual customers size and shape.
It is stable and mature products which have now sold into over 50 different countries. There are more to it other than all about creating fashion illustrations in designing. There are software's that assist in creating patterns and also they facilitate in scaling the patterns and grading them. Fashion CAD is accurate pattern making software for pattern fitting. This software is perfect for home based system as well as for industrial use. It is reasonably price too. We can make modifications with this software whenever we need.
 

Adobe Illustrator

:
Adobe illustrator is available easily everywhere. It can be download online and can receive from market in the form of CD's too. This is 2D software that helps only in designing flat sketches of a garment. It gives only the view of a garment and therefore will not give results like other software. So as to enhance the Adobe illustrator it is used with accessories which can be easily download online. These accessories can be sketching templates, vector sketches, swatches, brushes and artwork layouts.
Adobe Photoshop

:
Adobe Photoshop is archetypal software for any variety of designing. Since it is the most basic software some designers desire adobe Photoshop for fashion designing.
Probably some designers prefer to use Adobe Photoshop for designing because it is the most basic software for fashion designing. Adobe Photoshop is flexible with Corel Draw. Few features created in one software can be able to import the file in the other software. In that software any alterations or modifications can be made. It also helps to draw even more with those designs. Adobe Photoshop is available in CD's and can be download from online too.
 Coral Draw:
                     Coral Draw is very user-friendly software. It can be learn with good grace by any one. To know about the tools and operations in Corel Draw software, there are books available. Otherwise it can be learn through online where lots of tutorials are available. In Corel Draw with the help of Nodes any shape and design we can make. Other software afford precise model to draw on it. In Coral Draw also a model can be drawn. But it is not extremely difficult to draw in Coral Draw too, but it requires some expertise in drawing.