ROLE OF TEXTILE DESIGNER – Designer are one of the main key of fashion world. They keeps a movement in fashion which brings a new trend and colours in fashion. In this way, extile designers also plays an equally role in fashion industry.
Textile designers creates a variety of designs, prints, woven materials  and patterns for fashion designers . They usually creates designs for mainly two areas i.e., one, for interiors(upholstery, soft furnishings and carpets) and secondly, fabrics for clothing (fashion or specialist, e.g. fire-proof). In these two areas, textile designers create two- dimentional designs that can be used as a repeat design, forknitting patterns, variety of weaves and printed fabrics or textile products.
Not only this, textile designers have to do a deep research on trends, colour forecast and textile testings in the textile world. If a textile designer is not likely to study all these factors then he is not able to predict that what is going to be sell in the coming few years.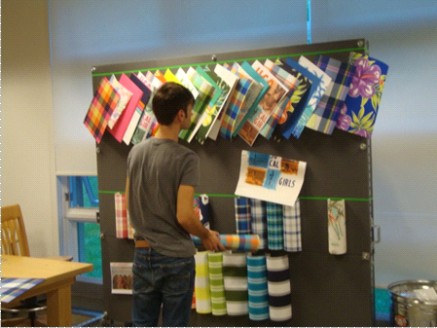 There are some of the key roles and activities of a textile designer which includes:
–testing simple fibres, fancy yarns and experimental  threads.
-producing initial sketches for the final layout of the design which is woven or non-woven.
-making samples for consruction of fabrics.
-researching trends and colour forecast for a new and unique development in future.
-keeping upto date with new developments which are taking place in the textile world.
-making sets of sample designs
-good knowledge of specialist softwares related to textile and designing field.
-developing new designing concepts
– always searching for a new inspiration and themes for a variety of developments in textiles.
-experimenting with colour, fabric and texture
–sourcing fabrics and other materials at trade fairs, markets and antique shops
-attending trade fairs and getting influenced from it
-satisfying customer's preferences and requirements
Textile designers may also work in associated industry  functions, for example, designing wrapping paper, packaging, greetings cards and ceramics.
Other than this, a textile designer can also be a self-employed, who handles all the marketing tasks along with designing for fabrics and prints.