what is PATOLA SARI /SAREE? – Patola saris are made in patana, Gujarat, India. Their silk saris these worn by royalty and aristocracy. Velvet patola saris are also made in Surat.
The weave is a double ikat. Usually made form silk. Patola weaving family tradition there are three families left in patana. That weave these highly prized double ikat saris. It can take six months to one year to make one sari.
THE WEAVE
Patola saris from patina are renowned for their colourful diversity and geometric style. To create patola sari, both the warp and weft threads are tie dyed according to the desired pattern on the final woven fabric. The bundles of thread before being dyed where the bundle are tied. The thread resist the colour the weaving is don on traditional hand looms, and vegetable dyes are traditionally used In Guajarati people say "patola will slash but will never lighten.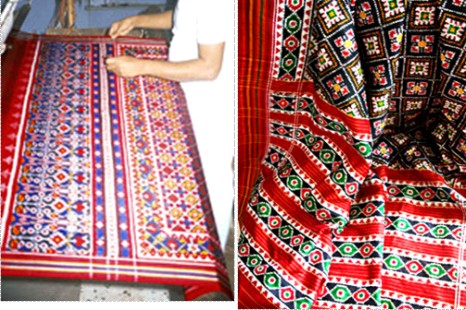 Patola has a royal history, and very famous for having different design and pattern. Fabric are very attractive and full of colours and geometric patterns the base of sari is totally depends on geometric patterns the base of sari is totally depends on geometrical creations the process of making of sari staris with dying the warp and the weft yarns. Accordingly to planed pattern of the final cloth.
Production of patola sari is very costly and very time consuming. Every women have desire to have this royal sari in their wardrobe.
In patola sari designs creates of parrots, flowers, elephants, and dancing figure generally used.
The dyes are used in this is indigo, turmeric, manjistha, ratanjot, katha, kesudo, henna, onion skin   etc.