THE FASHION DESIGNER AND ARTIST WHO CREATE LADY GAGA GARMENTS:
Whose name is Hussein Chalayan is the creator of what is called animatronics clothes. The animatronics is a technique which allows by the use of different robotics or electronics mechanisms simulated the look and the behaviors using this technology for create clothes which can retreat, stretching or stored with the push of a button.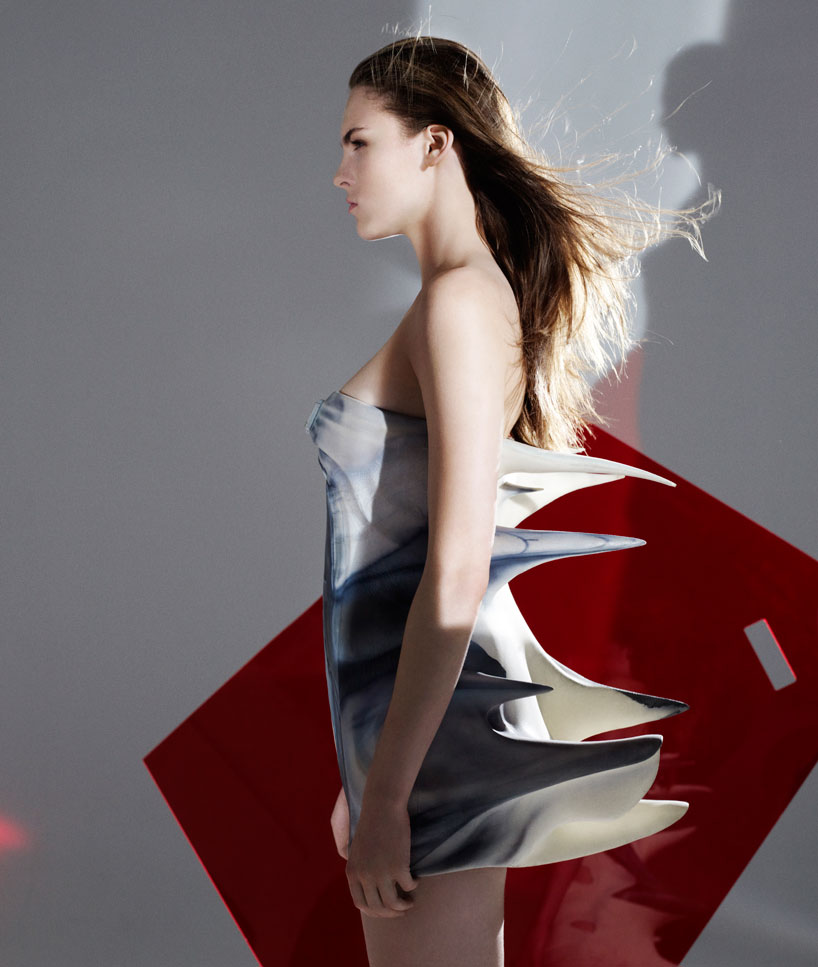 With unconventional materials and cubism designs, Hussein Chalayan incorporated to the fabrics he use electronics devices to harmonize with the "light", "sound" and giving it a unique, an unusual and extravagant parades mobility.
On his work are great influences from the architecture, philosophy, and anthropology. In all of his collections it could be reflected his positions about political, cultural and human concerned in general. His designs are consider minimalism and conceptual and being expose on various museums.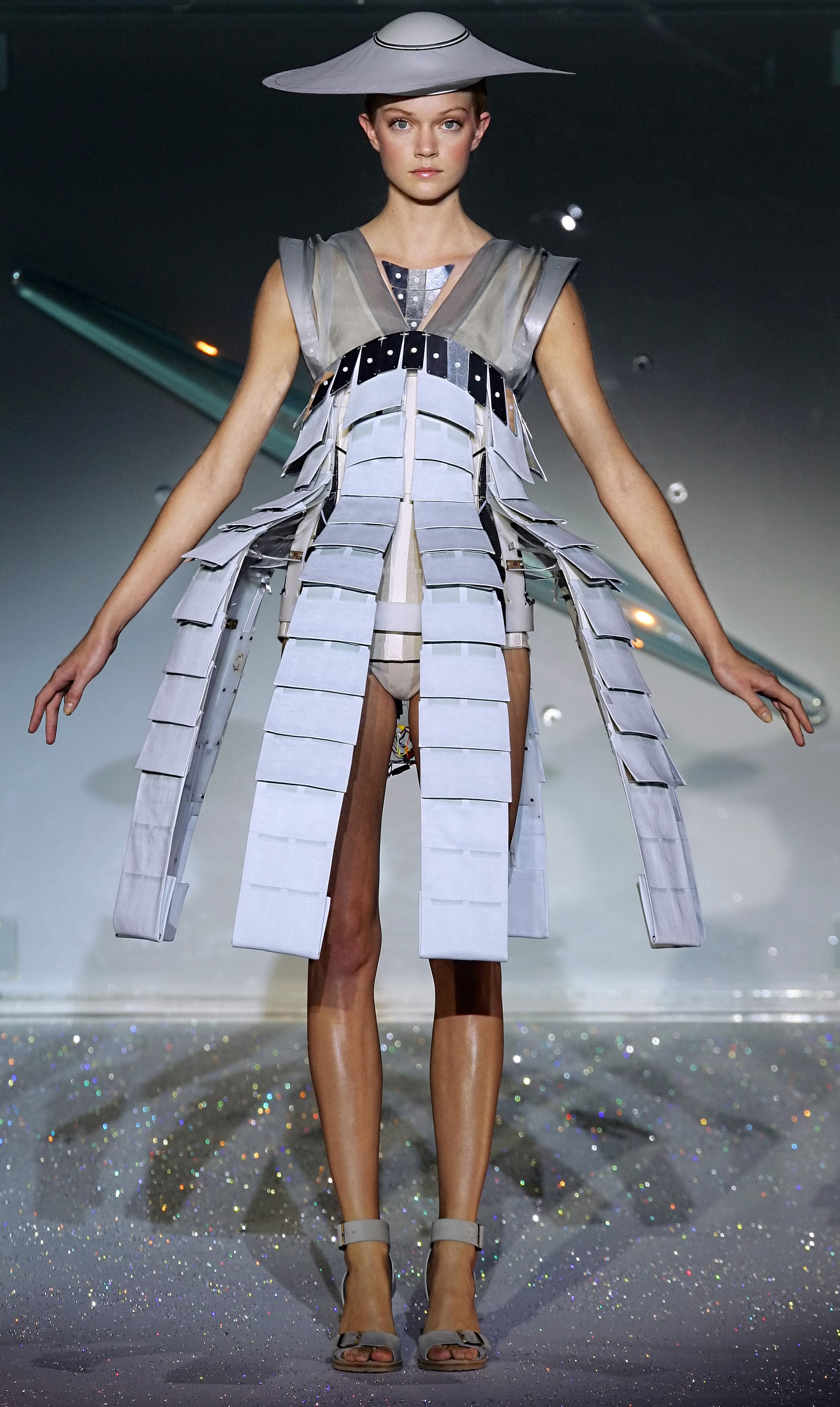 He used rigid materials for the abstract designs; such as elastic fabrics for flexible designs that can model the body; some characteristics are for example the conics dress which can shrink and stretch.
All this become him a leader of exploration and experimental conceptual designs of fashion. To be one of the few fashion designer who challenge the technology, his practices can be confused as a scientific or artist. His haute couture animatronics line change the texture, color, and shape thanks to approach the science.
He also creates hats with technology that create an effect with bright light results. Also do garments for The Black Eyed Peas.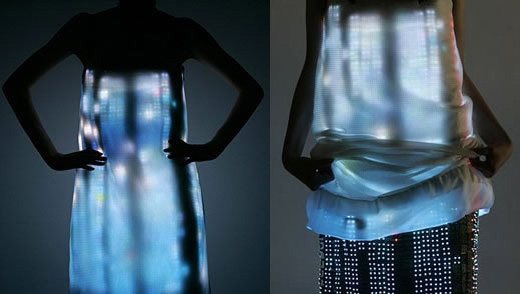 An example of animatronics clothes, which the fibers of their fabrics have electronics device sensitive to light and sound, synchronized with the movement of the garments as models paraded on the catwalk.
Also had a line of clothes that convert in a tri-dimensional screen their designs, which in addition to his talent to compose takes us further by projecting different landscapes on models on the runway.
Another eccentrics examples of this kind of technology use for fashion is his line with in collaboration with Moritz Waldemeyer had a extravagant garment which embedding in garments mechanism that allows multiple laser beams projected out from the clothing. He plays with those luminous effects in fashion, creating different sensations to the viewer.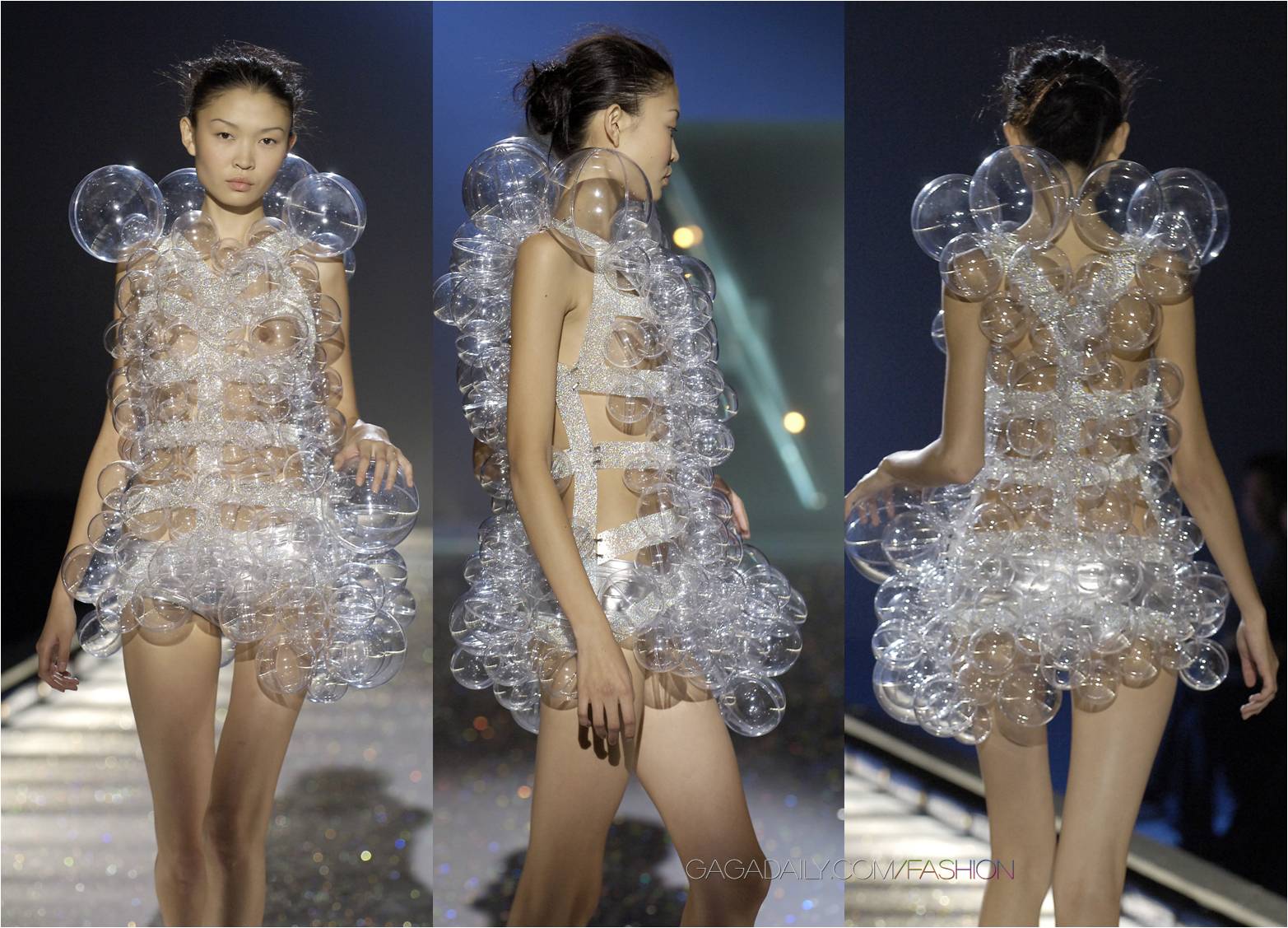 His pieces including LED lasers were designed a showcase for luxury brand Swarovski crystals, held in Tokyo.
He try to convert different, ingenious, funny situations created by the technology, and all what we could do to generate new feelings to the people on a showcase.
He interested awakening into people the curiosity and to realize all the situations and feelings that can be created thanks to the modern technology within reach of people.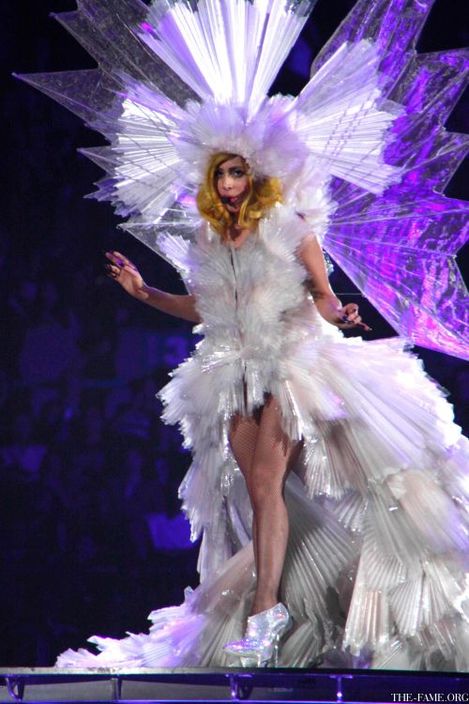 Lady Gaga sang "I'm so happy I could die" in Liverpool wearing a garment of the most extravagant costumes ever seen, animatronics inspired clothing Chalayan. Also wear glasses made by this talent and revolutionary designer.
He has been working for PUMA brand for some years, and be the creator of a style called Urban Mobility.
The collaborations with great fashion designers such as Alexander Mc Queen, joined with Puma Chalayan create the "backpack hoodie" and also sport shoes, such as "Wild", Premium skin tonal quality to run.
In the other hand there is a version of de new Urban Swift, in bright yellow. It is made from a combination of latex and another polymer which pretend give the sensation of movement with their shapes.