Introduction:
MADELEINE VIONNET Was born in Paris in 1876. She learned about the bias cut at the Callot Soeurs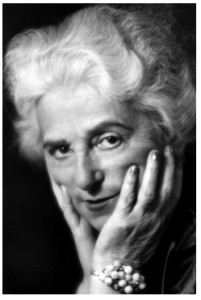 in Paris.
Then she did expand the use of the bias cut to perfection. She works fabrics in an usual way cut. Producing an stretchable characteristics using bias cut.
Tricot:
Those kinds of cut do that women can easily put the dress on their body as a tricot.
In 1919 she procure to create her own logo. She create it with help of a designer Thayaht. She was the first anticopyist Association introducing fingerprinted labels. That was necessary because she produce for the first time a prêt a porter. Where the logo printed could do the effect of do series.
Fashion house:
She was the first owner of a Fashion House with 1.100 employees.
MADELEINE VIONNET was an advanced busyness women. On her Fashion House had maternity leave, paid holidays. Likewise such kind of revolutionary way of manage a Fashion House as she does.
Her first job on hospital gives the revolutionary ideas. Where she as a seamstress knew some about mass production, which she used for her own being.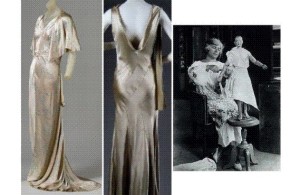 She also designs textiles and jewelry for her Fashion House.
She designs garments draping on a half size mannequin.
Inspired on Greek and Egyptian cultures.
Also a lingerie salon was created.
At the end of her productive life (remember she die at the age of 99) she don't stop the techniques she develop. Moreover in 1970 appear Issey Mikaye. Who inspired on her work continues the style of Vionnet. She create the handkerchief dress at that earliest time.
Considered one of the greatest designer, architect and sculptor, manages the fabrics fall freely giving freedom and sensuality. Mainly by falling selected fabric to be cut on the bias.
Book about patterns:
She write a book about Vionnet's patterns, but the difficulty is that it was write in Japanese language.
Vionnet donated to the Museum of Decorative Arts in Paris 122 dresses, 750 patterns, and over 13,000 photographs. Thus remaining at the time the legacy of this designer doing remain the spirit of his creations for the future.