Triangle panel Anarkali is little accumulation or variation of Panel Anarkali. These types of Anarkali top having fit bodice and flare skirt part with Triangle and rectangle panels. This Anarkali suit stitched with thin fabrics like chiffon, Georgette, net, tissue & cotton with proper lining.
Here we are going to learn how to make draft of Anarkali with Triangle panels form Basic A-line Kameez draft. For that first we should know about the basic Kameez draft. Click HERE to see Kameez draft construction method.
Construction: Front & Back
First we need Kameez draft then follow the instructions to make A line draft. If u wants to make high waist line Anarkali add this following construction points to the basic Kameez draft.
(0-10')             = Shoulder to under bust length
(10'-11') = ½ high waist
Then Join 11'-4' side seam line.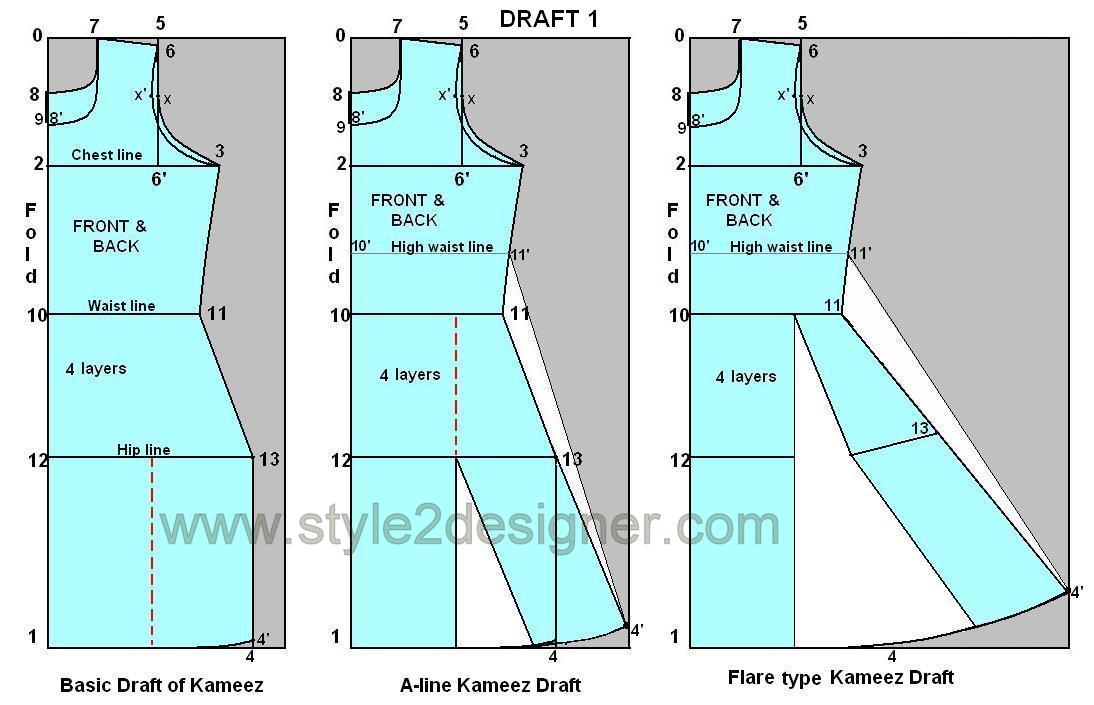 Instruction for A-line draft & Flare type draft:
Mark the centre points of (1-4) & (12-13) and draw line to join that points.
Cut the line and slash as like as the draft 1. Now you have A-line draft.
Draw a straight upward line form the mid point of (12-13) to meet the line (10-11) in A-line draft.
Cut the line and slash to have a flare draft. Refer draft 1 image.
Cutting line:
Front: 9-7-6-x'-3-11-13-4'-1                     (9-1) on fold
Back: 8-7-6-x-3-11-13-4'-1                       (8-1) on fold
Cut 8-8' on fold for back neck slit opening
[Note:
Neck slit opening need only at the circumference of head is lesser than neck circumference.
If it is high waist Anarkali use point 11' instead of 11 in Cutting line instruction.]
Here I take Basic A line Kameez draft and open the fold of front & back draft and mark 8 divided equal points at 1" above waist line and Hem line.
Join the darts vertically (Refer image)
Cut along these lines till to the marked point, it should not cross the line of front & back part.
Time to make triangle panels, we need 18 triangle panels.
Now we have to measure the length and width of panel and draft triangle pieces with these measurements.
Cut 18 triangle pieces, we have to attach 7 pieces at front, 7 pieces at back and 2 pieces at 2 sides of the panels gape.
Finish Neck lines, sleeve (option), Shoulder and hemline. Sewing Instructions are same as Kameez. Click HERE to Refer Kameez tutorial.
I hope you learn this Triangle Panel Anarkali with these simple draft and Instructions… Happy sewing…