Khadi is hand spun and hand woven cloth, it can be cotton, silk or wool. When mahatma Gandhi promoted use of khadi, everyone thought it was too cheap fabric to wear back to the present age, khadi or any hand loom fabrics are no longer  cheap infect its become most of the preferred fabric considering it could. Be warn both in winter as well as summer. Such is the popularity of hand looms. Even most well known big brands are cashing in on this rising trend by adding hand loom to their list.
Must as we would like to dispute the trend is slowly setting in and we are perhaps getting ready for another revolution agree or not, hand looms are here to stay and make an impact.
Khadi is woven in often rural areas where there is no electricity. Everything is done by hand. It explains the loss of fabric that can be as much as 20%. Often small stains, discolouring and even bird droppings can be found on the cloth … before washing all kadhi products are washed and pre-shrunk and sewing.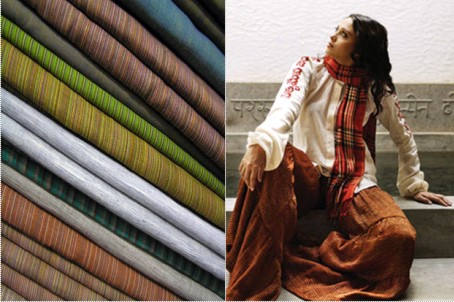 The small weaving errors give it the particular khadi charm. Khadi has the unique property of keeping the wearer warm in winter as well as cool in summer. The more you wash it, the better it looks and feels. Khadi is more than fabric; it is a way of life. It stands for independence and for going back to basics.
Today our goal for the future is to have khadi woven from ecologically grown cotton that grows without the use of pesticides, herbicides and defoliants. The world is becoming more ecologically and ethically aware. We know that for many textile communities in India the so much needed transformation from chemically grown cotton to organic & fairly traded cotton is just starting. House of Khadi wants to help these growers and communities achieve their goals.
The  colors  bought ready-made, from a warehouse. On this  fabrics can do block or screen print. The colors used are non-toxic, all taken from plants & vegetables, and fixed in a very professional way.
Many years down the line, we find that khadi is one fabric that refuses to go gently into the night. Unfazed by the fact that it hasn't got its just dues from the country of its origin, it keeps coming back. For which India should be truly thankful.
One set of designers has always worked with khadi, the classicists rather than trend-tweakers. Many designers working with khadi and they knew the nature of khadi, and worked closely with the weavers. These experience says, Khadi dyes beautifully, is more eco-friendly than any other Indian textile, and its matte texture looks fabulous with subtle embellishment.
Designer talks about the fabric's versatility, Khadi allows us to create an ethnic look with ease. If worn with proper accessories and carried with grace, it makes a distinct fashion statement. Whoever worked with khadi and handlooms for many years now they says, Khadi is really unique.
Hand-spun khadi and it is versatile enough to pass that most basic textile test: that of being climate adaptable.